It's pretty painful to get a sunburn after missing a spot on your skin with sunscreen. Just imagine how a corneal sunburn would affect your quality of life during some of the best weather of the year. Also known as photokeratitis, this issue occurs during short-term exposure to high intensity UV-B rays. Photokeratitis is painful but temporary and is similar to a sunburn, but on your corneas (the clear portion of your eye in front of your pupil) instead of skin. It can look like a yellow, thickened area in the whites of your eyes. Too much exposure with ultraviolet rays can temporarily damage your conjunctiva, which is the clear layer of tissue covering the inside of your eyelid and whites of your eye. 
Summertime activities that can put someone at increased risk for photokeratitis include mountain climbing, hiking, skiing, and swimming. It can also occur if you use sunlamps and tanning beds, or spend time in an environment with consistent UV light exposure.
There are two types of UV light proven to contribute to eye, skin, or health issues. UV-A rays can pass through your eye's cornea to reach the lens and retina. UV-B rays can't pass through glass but still can cause eye damage.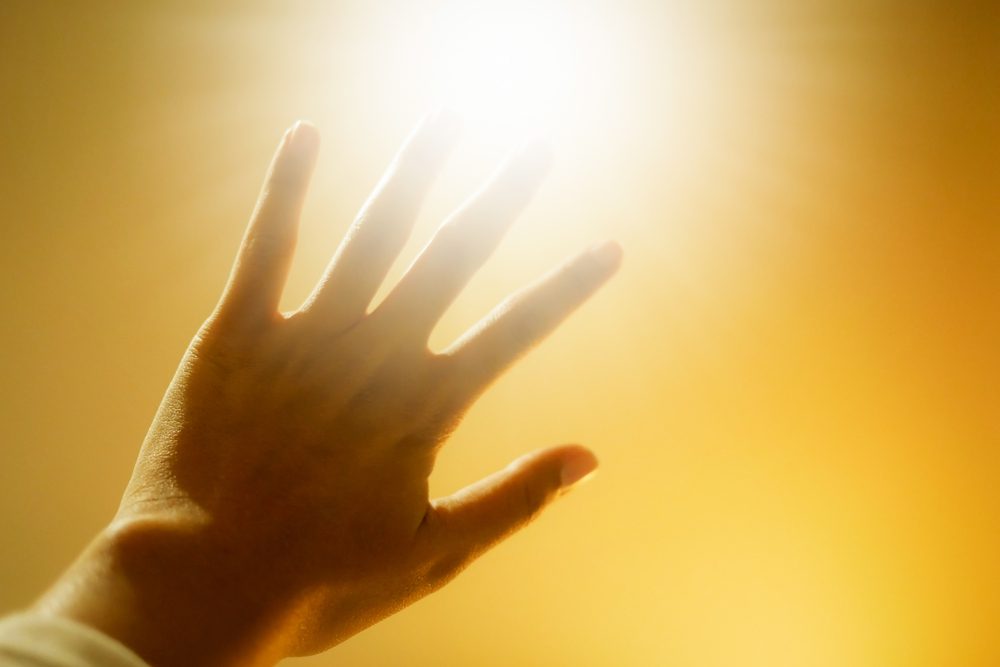 The symptoms of photokeratitis are pain and redness in the eyes, swelling, light sensitivity, headaches, temporary loss of vision, twitching eyelids, and seeing halos (like in the photo below). They can last from six to twenty-four hours but typically disappear after forty-eight hours.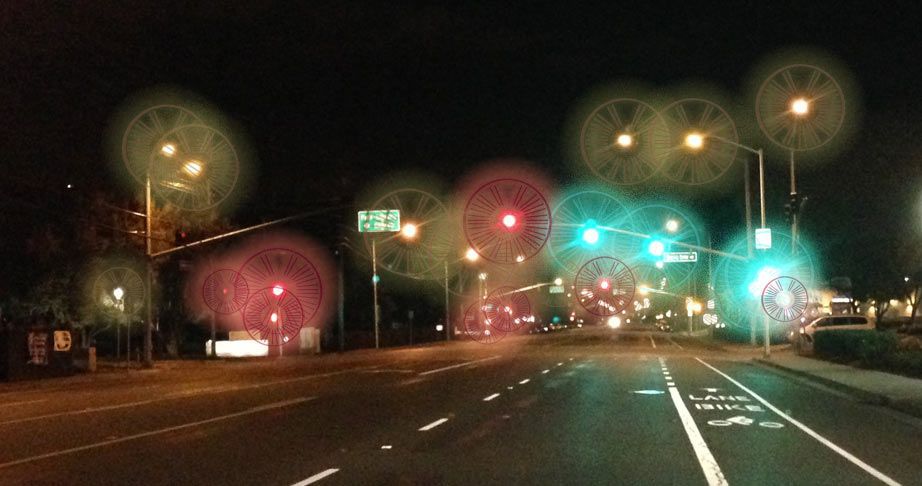 What Does Treatment Look Like?
Photokeratitis is most often formally diagnosed after an eye exam, and your doctor will place drops containing a special dye known as fluorescein in your eyes to reveal any superficial irregularities on the surface of your cornea. As for treatment, go indoors immediately after experiencing symptoms and avoid bright lights. Once in a darkened area, place a cold washcloth over your eyes and take ibuprofen. If you wear contact lenses, remove them and use artificial tears to reduce discomfort.
The longer you were exposed to UV lights, the more severe the symptoms. Long term exposure to even the tiniest amount of UV radiation can increase the risk of developing a cataract or macular degeneration (an eye disease that leads to vision loss in the center), or cause tissue elevations on the surface. These conditions are known as pinguecula and pterygium, but can be prevented by wearing sunglasses. 
If you wear contacts, ask about ones that absorb UV rays when working or playing in a sunny environment. But even with these types of contacts it's still important to wear protective sunglasses to shield your eyelids and conjunctiva from the suns' rays.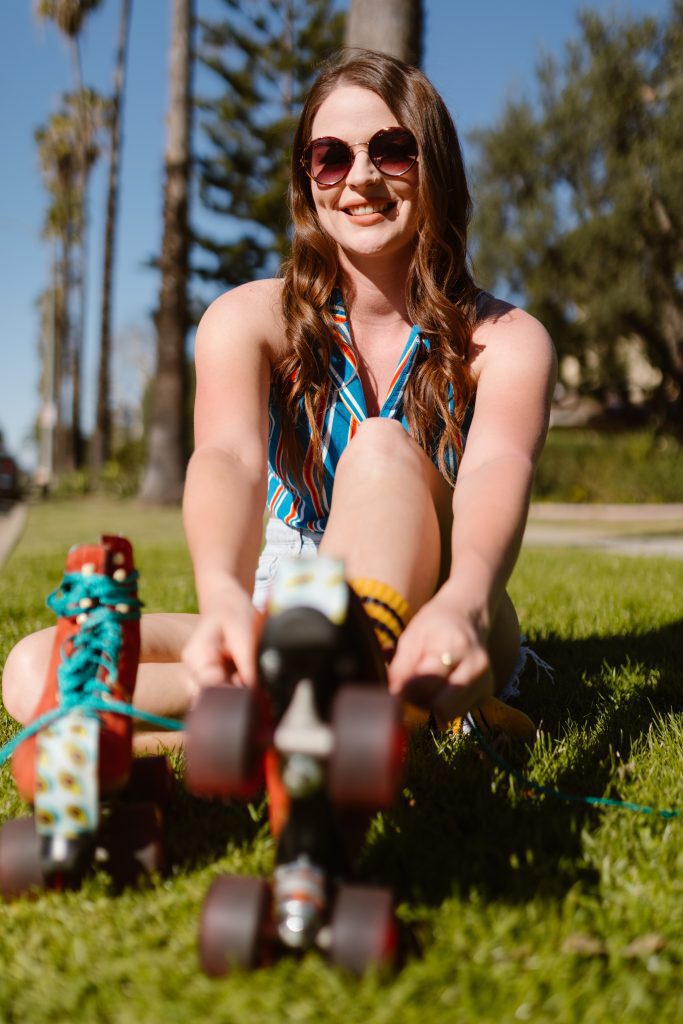 The good news is that photokeratitis is preventable simply by wearing the proper eye protection when outside, like prescription sunglasses or snow goggles in the winter. Glare from snow, sand, or water can cause burns to your eyes even if it's overcast. A wide brimmed hat can help filter out the sun's rays as well. 
When purchasing a pair of sunglasses, it's worth noting that not all sunglasses are polarized. Polarized sunglasses are manufactured in a distinctive way that creates a different pattern in the lens to block out more light than a usual pair of sunglasses. When choosing a pair, look for one that provides one hundred percent UV protection or UV 400 protection. Prescription sunglasses help with overall light sensitivity, headaches caused by glare, and regular eye strain from squinting in bright sunlight.
For more information, check out our other blog post on prescription sunglasses here. 
Visit Visionary Eye Center For The Best
Reno Eye Care
Be sure to visit your eye specialist once a year to stay up on your eye health and catch any issues early. It's never been a better time to make an appointment with the team at Visionary Eye Center to get the perfect pair of prescription sunglasses for your summer adventures. Shop our collection from the comfort of your own home at our online store.
Our Reno eye care facility is one of the best in preventing photokeratitis in our patients. 
Schedule an Exam with an Eye Doctor in Reno
March is National Save Your Vision Month, so what better time to schedule your annual eye exam. With Spring Break quickly approaching, it's the perfect time for the whole family to see an optometrist in Reno. Dr. Bolenbaker and his team at the Visionary Eye Center look forward to meeting you and your family and taking care of your eye vision needs. As the best eye doctor in Reno, we offer pediatric eye care services to ensure that your child is developing proper depth perception, essential binocular skills and more.
How Can I Take Care of My Eyes?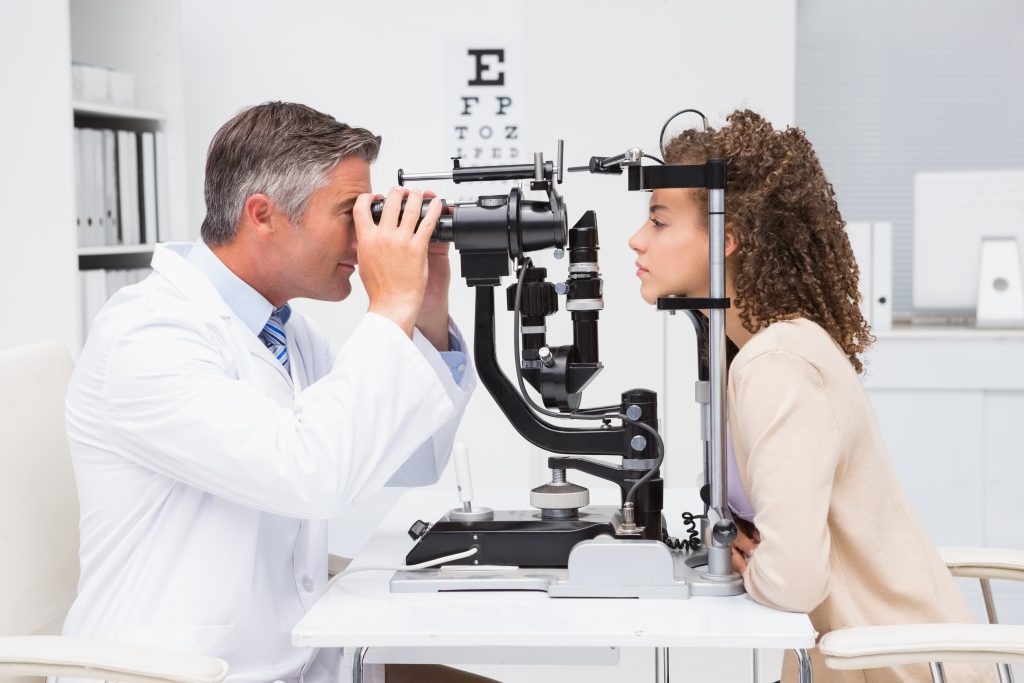 Preventative eye care is important because eyesight is one of the most important senses. Eighty percent of what we perceive is because of our eyesight, so protecting your eyes will reduce the chance of blindness, vision loss, and long term eye diseases like cataracts and glaucoma. Vision disability is one of the top 10 disabilities among adults 18 years and older, and is one of the most prevalent disabling conditions among children. Because of our aging population, the CDC reports that the number of visually impaired individuals in the United States will double by 2030 and triple by 2050. 
Other reasons to see an eye doctor in Reno include getting assistance with any decreased vision, eye pain, or double vision issues. We strongly encourage people to take care of their vision health, and the first step to it is making sure to schedule an annual eye exam. Visionary Eye Center can offer these important services in addition to exams:
Take care of your eyes and correct mild cases of farsightedness and presbyopia by beginning the safe processes of orthokeratology, myopia control, and more at our center today. The Lasik procedure is a great refractive practice to help with easily fixing any vision issues too.
Our Reno family eye care center is also one of the only low vision specialty clinics around, and there's nothing more enriching than helping the partially sighted regain their independence.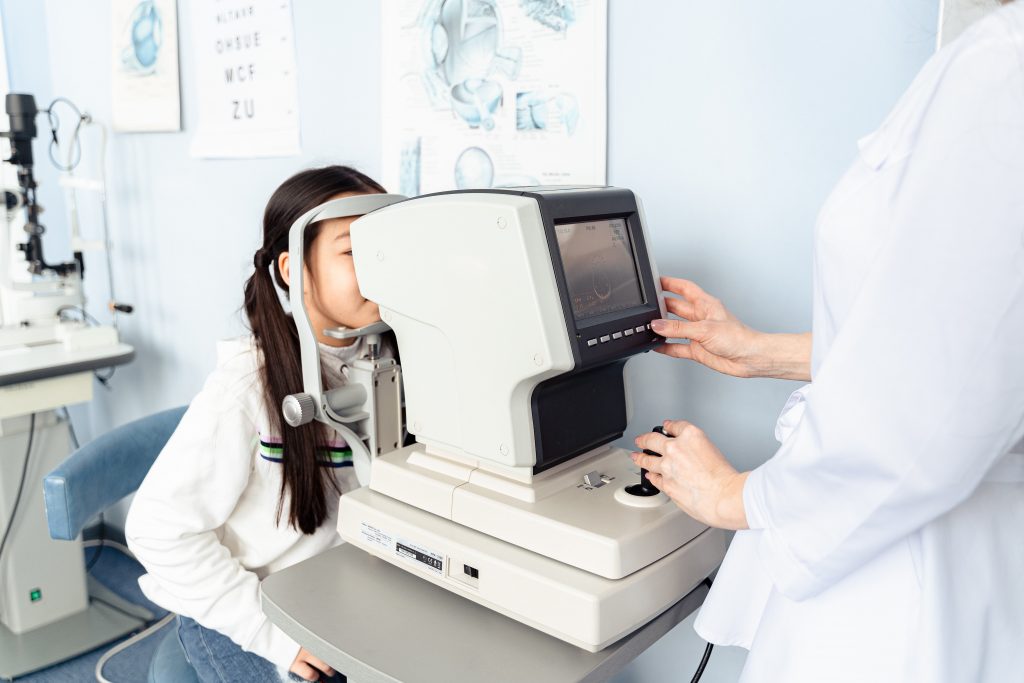 Providing Year-Round
Reno Family Eye Care
at Visionary Eye Center
We want the Reno community to be well informed on the best eye health decisions all year round. We offer several services for your eye health, whether it's dry eye care, contact lenses, or myopia control. Don't put off something as important as preventative eye care. The team at Visionary Eye Center are Reno optometrists with plenty of experience. Click here to schedule an appointment today. Please don't hesitate to contact us with any general inquiries or concerns, and we look forward to meeting you!
Just like with the rest of your body, age can have drastic effects on your eyesight. One of the most common age-related eye conditions out there is cataracts. You may be asking yourself, "what are cataracts?" and you're not alone. Though many people have heard of cataracts, they're less informed about the types, symptoms, and treatment of them. Considering how common cataracts are, it's likely that you or a loved one may be affected by the eye condition if you don't take the proper precautions. Take a look below to learn all you need to know about cataracts and see what you can do to protect yourself from developing this condition.
What Are Cataracts?
Cataracts are described as clouding of a normally clear eye lens. They affect the natural lens of your eye which leads to impaired vision and other sight complications. Typically, cataracts affect older patients over the age of 60 and are most noticeable in dim lighting. Fortunately, cataracts do form slowly and can be treated. 
Though the cause of cataracts has not yet been fully determined, it's understood that they form when proteins build up in the lens, making it appear cloudy. The cloudiness prevents light from passing through the lens clearly resulting in vision impairment. There may be several causes of cataracts, but generally, age, exposure to sunlight, and eye trauma are the biggest contributors.
Symptoms of Cataracts
The main symptom of cataracts is the inability to see clearly. Cataracts cause light to be blocked by the natural lens impairing your vision. Other signs and symptoms of cataracts include:
Cloudiness on the eye which is visible from the outside

Vision that is blurry, foggy, cloudy, or filmy

Nearsightedness developing in older patients

Changes in the way you see colors

Light sensitivity

Problems driving at night

Issues with glare during the day

Double vision in the affected eye

Contact lenses or eyeglass prescriptions no longer work for you
Types of Cataracts
There are several types of cataracts including cortical, posterior subcapsular, and nuclear sclerotic cataracts. 
Nuclear sclerotic cataracts are the most common and it's very typical for people to develop them in their late age. This type of cataract forms in the center of the lens also called the nucleus. You may notice your vision improve for a brief amount of time when developing nuclear sclerotic cataracts but these effects do not last. Over time, your lens will begin to harden and become yellow or brown in color. It makes seeing small details almost impossible, dulls colors, and may result in seeing halos forming around objects.  
Cortical cataracts are common in diabetes patients. These cataracts develop opposite from the nucleus, starting at the outer layer of the eye rather than the center. As it progresses, it creates noticeable spokes that lead from the outside in. A unique symptom of this type of cataract is experiencing changes in both contrast and depth perception. 
Posterior Subcapsular cataracts develop much quicker than other types of cataracts, typically over months rather than years. Posterior cataracts start at the back of the lens and are most common in diabetes patients or those with extreme nearsightedness. Steroid use can also increase the risk of developing posterior subcapsular cataracts. With posterior subcapsular cataracts, you will first notice changes in your night vision and may also notice more difficulty reading.
How Are Cataracts Treated?
The good news is that cataracts are easily treatable by medical and eye professionals. If you catch the condition early enough, a stronger prescription lens can improve your vision for some time. Typically, increasing your light source will also help vision in patients with cataracts, so be sure to add light to your home and use your new prescription glasses or contact lenses. 
If these no longer work for you, then cataract surgery is going to be necessary. Cataract surgery is the only way to remove the cataract and fully treat it. There are several kinds of operations for cataracts, but they all require your surgeon to take out the cloudy lens and replace it with an artificial one. The surgery usually takes about 15 to 20 minutes, and you don't need to stay overnight in a hospital. If you have cataracts in both eyes, your doctor will wait until your first eye heals before they perform surgery on the second. More than 95% of people who have this done say they can see better afterward.
Preventing Cataracts
While there is no surefire way to prevent the onset of cataracts, there are some precautions you can take to limit your risk of developing cataracts. With risk factors such as increasing age and previous trauma or injury, there's little you can do to keep eye problems from worsening. However, other risk factors can affect this as well. Some of them include:
Diabetes

Excessive exposure to sunlight

Smoking

Obesity

High blood pressure

Previous eye injury or inflammation

Previous eye surgery

Prolonged use of corticosteroid medications

Drinking excessive amounts of alcohol
In order to prevent cataracts from forming, try making some life changes such as:
Reducing alcohol intake

Always wear sunglasses

Add more fruits and veggies to your diet

Manage your existing health problems

Quit smoking

Get regular eye exams
Visit Your Reno Optometrist 
Cataracts are the leading cause of blindness worldwide, though in the United States access to cataract surgery is readily available, so most Americans, fortunately, do not need to live with vision impairment from cataracts for very long. Should your condition require more advanced medical care, we work with many of the area's best specialty surgeons to co-manage any problems you may develop.
If you're struggling with complications caused by cataracts or are just starting to develop cataracts, contact the Visionary Eye Center today! Here, we strive for customized eye care solutions for our Reno-Sparks patients and are eager to help you gain back control of your vision.